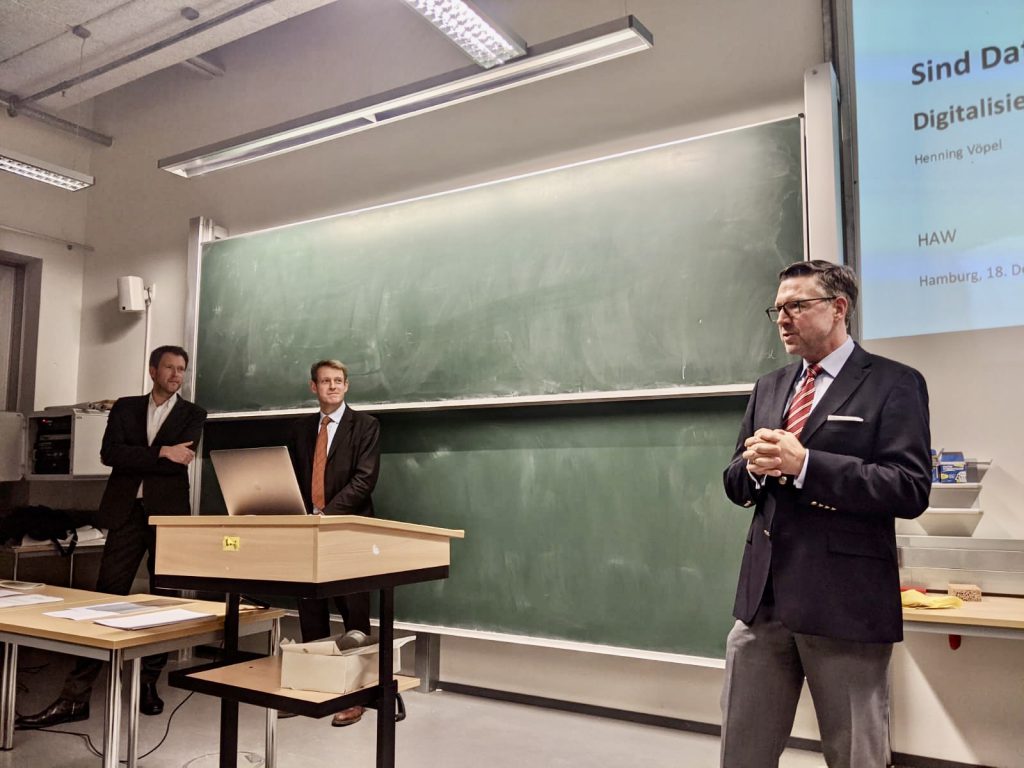 On Wednesday, 18 December 2019, the "Tenth AIM student poster research conference" took place at HAW Hamburg. 48 junior researchers enrolled in the degree programme Foreign Trade/International Management (B. Sc.) presented their research work.
The posters were developed in the context of the course "Academic research and writing". The coursework was organised by way of team teaching undertaken by Prof. Dr. Michael Gille and me.
The general topic of the semester was "Data – The new oil?".
As at any AIM student poster research conference, individual topics addressed a diverse set of aspects. All visitors had the opportunity to study the exhibited posters in a pleasant pre-Christmas atmosphere with jazzy sounds. Given the outstanding quality of the presented work, the instructors awarded four junior researchers with the instructors' best poster award. Additionally, the audience voted for the audience's best poster award, which was awarded to another three junior researchers.
Prof. Dr. Henning Vöpel, Director and CEO of the Hamburg Institute of International Economics (HWWI), delivered a keynote speech entitled "Are data the new oil? Digitalization and the new order of the economy". In addition to general information on the idea and the latest development of the technological leap that leads to masses of data being processed in real time and mobile, he presented thoughts on the exponential growth of storage capacities and the "singularity", and the transformation of data into a collective resource through artificial intelligence (AI), which will dramatically transform the economy and the society in the near future. The rise of platforms and the substitution of vertically organised industries by hybrid collaborations and the resulting consequences for companies were addressed as well as the change of business models and the impact on labor and education markets. Finally, the implications for international trade and the much-cited globalisation as well as geopolitics were assessed. Thus, questions were dealt with which are of great professional and personal value, especially for international business students. It was therefore not surprising that a lively discussion developed after the presentation. Together with the speaker, the students reflected on the positive and negative implications of digitalisation and the ever-increasing data collecting.   
@ Henning: Thank you very much for visiting us!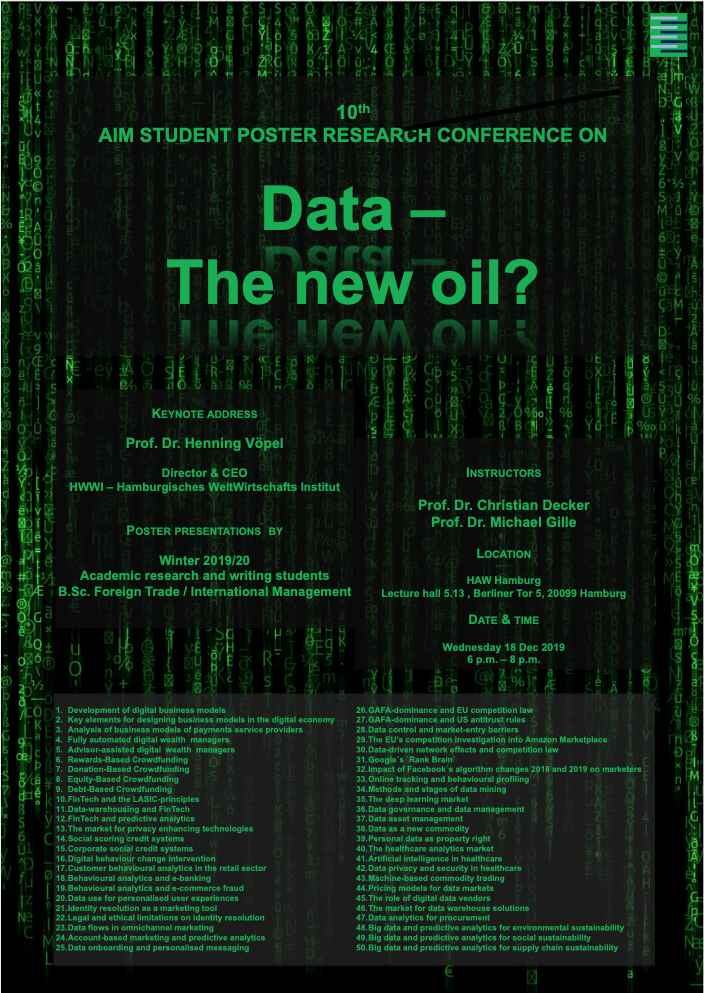 Additional information:
The teaching concept is based on blended learning and research-based learning. The course is modelled around the concept of Universal Design for Learning (UDL). Students are provided with various access points to the course contents, which can be combined or used on a standalone basis: learning videos, textbook, webinars, library excursions, tutorials, walk-in labs and poster labs support individual learning styles.
For more information on poster conferences in general see my article.