Christian Decker & Rita Werner
Wissenschaftliches Arbeiten und Schreiben: Eine Einführung aus der Perspektive der Wirtschaftswissenschaften
iCADEMICUS, Frankfurt am Main 2022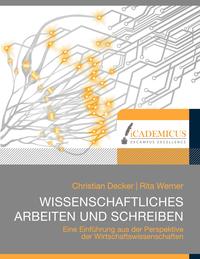 ISBN: 978-3-9815-5863-0 (Paperback)
Preis: 27,90 Euro (Germany)
ISBN: 978-3-9815-5864-7 (E-Book)
Preis: 12,99 Euro (Germany)
Das Lehrbuch soll Studierende nicht nur bei der erfolgreichen Anfertigung von Seminar- und Hausarbeiten sowie Thesen unterstützen, sondern grundsätzliche Fertigkeiten und Fähigkeiten zum objektiven, präzisen, systematischen und methodischen Arbeiten vermitteln. Es orientiert sich am Konzept der akademischen Kompetenzorientierung, welches das Problemlösen in komplexen neuartigen und nicht standardisierten Anforderungskontexten impliziert. Wissenschaftliches Arbeiten vollzieht sich dabei primär auf den höheren Stufen des kognitiven Bereiches:
Analysieren von Problemstellungen
Beurteilen von Wissensbeständen
Synthetisieren von Lösungen
Vor diesem Hintergrund werden in diesem Lehrbuch nicht nur die formalen Prinzipien und Regeln des wissenschaftlichen Arbeitens und Schreibens behandelt, sondern auch grundlegende materielle Aspekte wie Themeninterpretation, Strukturierungslogik und Argumentationsführung, die letztlich für die Qualität einer wissenschaftlichen Ausarbeitung entscheidend sind. Der Schwerpunkt dieses einführenden Textes liegt auf literaturbasiertem Forschen, das sich der hermeneutisch-interpretierenden Methode bedient. Das Buch ist Bestandteil eines integrierten methodisch-didaktischen Konzeptes, das auf der Basis unserer eigenen Erfahrungen mit wissenschaftlichen Texten und unserer Arbeit mit Studierenden entwickelt wurde. Jedem Kapitel geht ein strukturierter Überblick voran, in dem wir den Kontext und die Bedeutung des Kapitelinhalts aufzeigen und daraus abge- leitete Lernziele definieren. Zur Unterstützung des Lerneffekts ziehen sich visuelle Dar- stellungen, Beispieltexte und Fallbeispiele durch das gesamte Buch. Jedes Kapitel endet mit Abschlussfragen und Aufgaben zur Kontrolle und Vertiefung der vermittelten Inhalte.
Christian Decker & Rita Werner
Academic research and writing. A concise introduction
iCADEMICUS, Frankfurt am Main 2016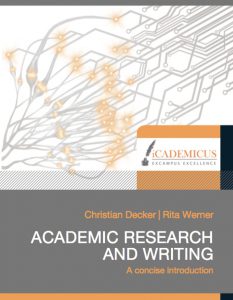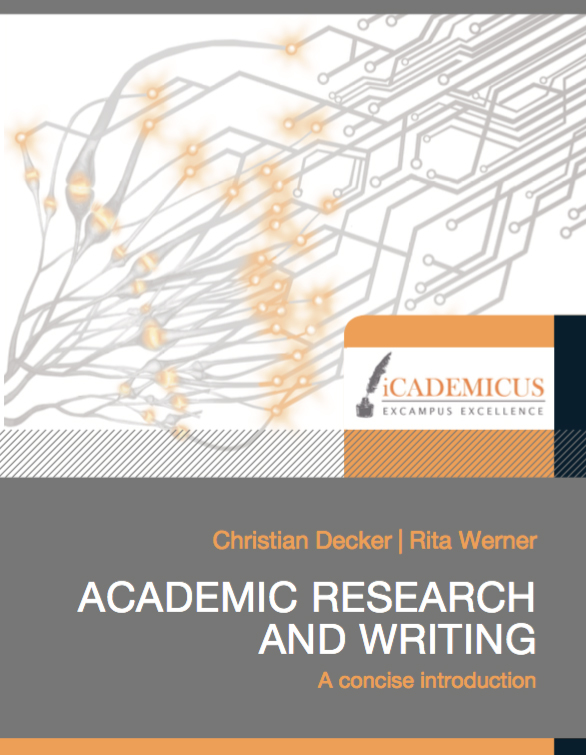 ISBN: 978-3-9815-5861-6 (Paperback)
Price: 16.90 Euro (Germany)
ISBN: 978-3-9815-5862-3 (E-book)
Price: 10.99 Euro (Germany)
The textbook addresses fundamental aspects and techniques of academic research and writing in order to provide the beginner and the intermediate student with a solid basis for working on essay assignments, term papers as well as undergraduate and graduate research projects.
The objective is to deliver an easily applicable, yet theoretically profound introduction into the field of academic research and writing, which can be understood without additional literature.
Applying a classroom tested instructional design, each chapter starts with an abstract and keywords followed by a structured overview explaining the chapter's context und relevance, from which learning objectives are derived. As supporting elements, examples and sample cases are used throughout the book. End of chapter questions and problems deepen the understanding of the chapter's contents.
The textbook forms part of an integrated educational media concept developed on the basis of our experience in working with students on academic research projects. We aim at combining the advantages of e-learning with the advantages of classic textbook formats. Accordingly, the textbook can be used either separately or in combination with complementary e-learning tutorials. E-learning and further materials are available for free on a dedicated website.